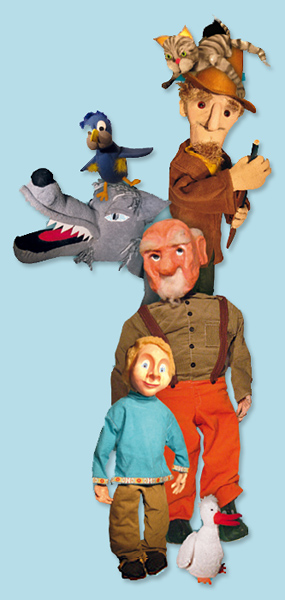 »Don't shoot«, cried Peter from the tree.
»Little bird and I have already caught the wolf.
Now help us take him to the zoo.«
Early one morning, Peter, an alert little boy, plays with his beloved friends the bird and the duck in the meadow and watches as the cat tries to creep up on them. Then grandfather comes out of the house. He is angry that Peter has left the gate open because a bad wolf could come out of the forest. But boys like Peter are not afraid of the wolf …
Prokofiev's symphonic fairy tale Peter and the Wolf is narrated in simple English by Mark, a native English speaker from New Zealand. The language is tailored to the needs of foreign language learners at primary school level.
The story is carried by Prokofiev's symphonic music with each character being assigned a specific musical instrument. Students can visually follow the plot with the help of the carefully crafted puppets by Mark.
An ideal entry to English Theatre for primary school age!
The show runs a total of 45 mins.